This app is designed for both iPhone and iPad.
Compatibility: Requires iOS 5.1 or later. Compatible with iPhone, iPad, and iPod touch. This app is optimized for iPhone 5.
Rated 4+
Price: $2.99
Updated: Feb 19, 2014
Version: 1.15
Size: 131 MB
Language: English
Seller: Laura Allison Pomenta Badolato
© 2013 Allison Pomenta, Higuera Studios
Description (as per iTunes)
* A Parents' Choice Gold Award Winner
*App Circus Online Competition Winner.
*Digital Book World Award 2014 finalist, and recipient of their Quality Excellence Design seal.
*Recommended by National Science Teachers Association and praised by School Library Journal.
*Teachers With Apps Certified App Badge of Approval.
*Picked as Editor's Choice at Best Apps for Kids.
Almost 5,000 downloads in its first week out. Reached #10 in the US App Store 'apps for ages 6 to 8′ category, and #14 in the Books category (only 5 days after it was released!). Ranked the top 25 in 48 countries.
A creative tinkerer, Axel Jansen struggles to connect with his classmates and get them to see past the fidgety, distracted, clumsy boy they think he is. Inspired by the work of Kinetic artists, the third-grader decides to build a moving insect to show everyone at school what he's capable of.
Axel's own traits mean he'll need a large dose of perseverance in order to make a moving sculpture he's proud of: a swinging, vibrating, tinkling work of art. But his personal bully Daniel sets off a disastrous chain reaction that leaves everyone yelling at each other!
Axel believes he can help by creating a beautiful sensory experience out of this mess —if they give him the chance…
BOOK APP FEATURES:
* ALLOWS FOR DIFFERENT LEVELS OF READER IMMERSION: Explore pages to discover extra dialogues, thoughts, or details of Axel's creation process. Or skip them if you're anxious to find out what happens next, and then read the story again if you want to know more.
* SOME OF YOUR INTERACTIONS ARE NEEDED TO MAKE THE STORY PROGRESS: Open Axel's glued fingers so he can continue working, rub the splashes of paint clean, knock on the classroom door to see Axel's giant artwork. If you don't, you won't see what happens next! (Hints provided).
* PLAY A CREATION MINI-GAME INSIDE THE STORY: make your own animals using objects from Axel's kitchen.
* HEY, YOU'RE THERE… AT THE END OF THE STORY!
*OPTIONAL SETTINGS: Turn off sound effects and/ or Narration.
*EXTRAS:
– HANDS-ON ACTIVITIES: Step-by-step instructions to make kinetic sculptures at home or school, for different levels of ability.
– BIOGRAPHIES of the 3 kinetic artists featured in the story.
– GLOSSARY
– 3D OPEN-ENDED GAME: Coming up! Domino Effect creation game.
Story by: Allison Pomenta, member of Moms with Apps "Know What's Inside" Program, and of the Book App Alliance. Illustrated by Mónica Armiño. Development by: Cubic Jigsaw (a division of Higuera Studios).
Privacy Policy: We do not collect any personal information from users. There are no ads and no links to social media. If your family or students wish to learn more about the Kinetic artists featured in the app, adults must type the answers to math questions in order to activate weblinks.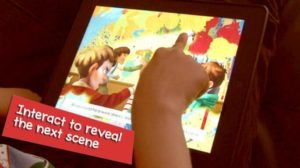 The author lets us know that this story has a message of hope for special kids: that they will be able to make friends (sooner or
later), and that the story is a good conversation-starter about things
like perseverance, planning skills vs. impulsiveness, and lateral thinking
(being flexible and finding a way to change a situation, in spite of
frustration).
Axel's Chain Reaction a story about celebrating differences and giving everyone a chance to show their hidden talents. The main character is a boy with special needs, striving to make a kinetic sculpture to show everyone what he is capable of. It has additional educational content and hands-on activities to make at home/school.
I thoroughly enjoyed reading this storybook app. There were important lessons to be learnt, like never give up trying, by persevering you will achieve your goal. Also, it is right to say 'NO' to bullying. There were many struggles for Axel to overcome, but with his determination, hard work and the will to achieve, he succeeds and reaps the rewards. The app is cleverly designed, with magnificent artwork, creative presentations and pleasant musical backgrounds. It's no surprise Axel's Chain Reaction has won so many awards, well deserved!